Inclusion via Diversity, Equity & Anti-Racism Foundation Workshop with CIS
February 14

-

February 16
Where are you and your school community on your
journey to inclusion via diversity, equity & anti-racism (I-DEA)?
Date: 14–16 February 2023
Time: 10:30–16:30 Central European Time (CET) | Convert to your time zone
Unsure of your schedule and ability to attend live? Access recordings and materials for on-demand participation.
Location: Virtual
The Council of International Schools is hosting a 3-day workshop on IDEA. I will be giving one of the keynote talks as below.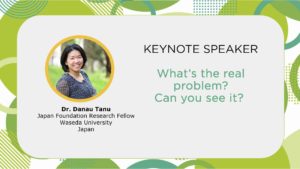 What's the real problem? Can you see it? 
Racism affects all students. We are all complicit in it. But how? In this keynote, Danau challenges us to a paradigm shift that lays bare the way structural racism infiltrates the student experience even in areas that seem unrelated. She shows how the 'hidden curriculum' can obscure the real, underlying issues in areas such as international transitions (including repatriation), classroom engagement, campus social life, academic learning, and so on. Her keynote will help us see old problems in new ways and be better equipped to support students.