Read Danau Tanu's publications on Third Culture Kids, international education and other related topics. This page lists academic monograph, journal articles and book chapters, as well as easy-to-read, publicly available open-access articles.
To access academic articles that are not publicly available, please contact Danau.
Monograph
December 2020 (Paperback). Growing Up in Transit: The Politics of Belonging at an International School. Berghahn Books: New York.
---
2018 (Hardback & eBook). Growing Up in Transit: The Politics of Belonging at an International School. Berghahn Books: New York. (Paperback release in December 2020)
Peer-reviewed academic journal articles
2019. 'Are Hafus "Dirty" or "Special"?: Negotiating mixed-race identities among Japanese-Indonesian youths in Indonesia'. Social Identities: Journal for the Study of Race, Nation and Culture, 25:3, 376-391. By Danau Tanu.
Mika says, 'When I was small, I felt a deep sense of '[inferiority] complex' about being mixed and hated it when my Indonesian mother would visit the school. So I would ignore her.' …

'It felt as though I had been denying my mother the whole time, and it hurt. It was painful to feel as though being hafu was about negating Indonesians and erasing the worth of my mother's existence.'

ARE HAFUS 'DIRTY' OR 'SPECIAL'?
---
2018. 'Fun, "Family", and Friends: Developing pro-environmental behaviour among high school students in Indonesia'. Indonesia and the Malay World, 46(136):303-324. By Danau Tanu & Lyn Parker.
---
2016. 'Going to school in 'Disneyland: Imagining an international school community in Indonesia'. Asian and Pacific Migration Journal, 25(4):429–450. By Danau Tanu.
---
But the second I opened my mouth and uttered some English words, a look of horror came over her. I immediately stopped explaining about my research and (thoughtlessly) used English to ask the question, 'Do you speak English?'

She shook her head, shifted in her seat, and leaned so far back that her chin dug into her neck.

I instantly recognised her reaction—she was terrified of English and the proposition that she engage with it.

LANGUAGE IN FIELDWORK
2016. 'Language in fieldwork: Making visible the ethnographic impact of the researcher's linguistic fluency'. The Australian Journal of Anthropology, 27(3): 353-369. By Danau Tanu & Laura Dales.
---
2014. 'Becoming "International": The Cultural Reproduction of the Local Elite at an International School in Indonesia'. South East Asia Research, 22(4): 579-596. By Danau Tanu.
Book chapters
2017. 'Sometimes white, sometimes Asian: young serial migrants of mixed descent straddling transnational racial boundaries'. In Zarine L. Rocha and Farida Fozdar, eds. Mixed Race in Asia: Past Present and Future. Routledge: London & New York. By Danau Tanu.
For some reason, I didn't want to be Asian. I wanted to fit in like an American student. I think that really affected me in some ways. …

It was really strange because in the [United] States, I felt like I was Asian.

But then when I went to Japan, I felt more Western in the way people were treating me. I felt more welcome[d]—like all the kids wanted to talk to me and wanted to know where I was from.

'Tim' in SOMETIMES WHITE, SOMETIMES ASIAN
---
2017. 'Hidden Diversity of Third Culture Kids' (Appendix C). In David Pollock, Ruth E. Van Reken and Michael Pollock, Third Culture Kids: Growing Up Among Worlds, 3rd Edition. Nicholas Brealey Publishing. By Danau Tanu.
---
2016. 'Unaccompanied Young Asylum-Seekers Stuck in Transit in Indonesia: Intimate Relationships and Resilience'. In Marisa O. Ensor and Elżbieta M. Goździak, eds. Children and Forced Migration: Durable Solutions During Transient Years. Palgrave Macmillan: Cham. By Antje Missbach & Danau Tanu.
---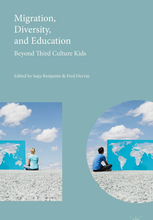 2016. 'Toward an interdisciplinary analysis of the diversity of "Third Culture Kids"'. In Saija Benjamin and Fred Dervin, eds. Migration, Diversity, and Education: Beyond Third Culture Kids, pp. 13-35. Palgrave Macmillan: London. By Danau Tanu.
---
2015. 'The missing link: Cultural performance and intercultural hyphenated identities of Australian-Indonesian youth'. In Antje Missbach and Jemma Purdey, eds. Linking People: Connections and Encounters Between Australians and Indonesians. Regiospectra: Berlin, pp. 173-196. By Monika Winarnita & Danau Tanu.
---
2011. 'Vignettes from Another Perspective: When Cultural Hierarchies Matter at an International School'. In Gene H. Bell-Villada and Nina Sichel with Faith Eidse and Elaine Neil Orr, eds. Writing Out of Limbo: International Childhoods, Global Nomads and Third Culture Kids. Cambridge Scholars Publishing: Newcastle upon Tyne. By Danau Tanu.
Public articles
The Hidden Curriculum. The International Educator (TIE Online). February 16, 2021.
But by the very makeup of the institution, we are teaching this hidden agenda.

'Nick' in THE HIDDEN CURRICULUM.
---
Osmosis: When Children Internalize Racism Through School. The International Educator (TIE Online). October 14, 2020.
It did not take long for Lianne to learn that English was a language of power. She soon learned to use English to challenge her mother's authority.

'Lianne' in OSMOSIS
---
---
The Hoax Emergency. Inside Indonesia. November 30, 2018. By Danau Tanu & Levriana Yustriani
---
Keep calm, carry on, and drink tea. New Mandala. December 1, 2016. By Danau Tanu.
---
Echoes of past violence haunt Indonesia. New Mandala. November 28, 2016. By Danau Tanu.
---
Are international school students Indonesian enough? The Jakarta Post. July 15, 2014. By Danau Tanu.
---
Prabowo the Chameleon. New Mandala. June 26, 2014. By Danau Tanu.
---
'Engaging Indonesia's Youth'. New Perspectives on Indonesia: Understanding Australia's Closest Asian Neighbour. Perth USAsia Centre: Perth. 2014. By Danau Tanu.
---
Educating global citizens? Inside Indonesia. October 4, 2010. By Danau Tanu. (This is a short article that I've dubbed 'a teaser' to Growing Up in Transit.)