This book offers profound insights …
Ruth Van Reken
Co-author of 'Third Culture Kids'
International Schools Journal
… a must-read for all leaders of international schools …
International Schools Journal
The author's unique experience growing up as a Third Culture Kid enabled her to breathe life into the ethnographic data …
Asia Pacific Journal of Education
… a nuanced and evocative analysis of privilege …
Journal of the Royal Anthropological Institute
… so original … ground-breaking…
Journal of Research in International Education
GROWING UP IN TRANSIT: The Politics of Belonging at an International School is the first and only book that addresses structural racism within international schools.
The number of international schools that claim to promote 'global citizenship' has grown rapidly over the last few decades, shaping the identities and worldview of millions of young minds. Yet, the ideology of being 'international' that is at the heart of the ethos of these schools is Western centric.
As students flood out of the classrooms at the buzz of the recess bells, one can hear a Russian teenager speaking fluent, colloquial Indonesian to a classmate; Indian teenagers speaking English with an American accent, then switching to an Indian accent and back again within a matter of seconds, depending on who they were talking to; and a Taiwanese teenager speaking English, Mandarin, and Indonesian in one sentence. Children of international marriages were part of the norm.

It was no wonder that [The International School] proudly presented itself as an ideal setting for raising 'global citizens.'

But an intimate look at the social lives of its students reveals that crossing cultural boundaries—even among internationally mobile young people—is not a straightforward process.

GROWING UP IN TRANSIT
Despite the cosmopolitan rhetoric, hierarchies of race, culture and class shape popularity, friendships and romance on campus. Not surprisingly, this has an adverse effect on students' self-perception and sense of school belonging.
By going back to high school for a year, Danau befriended transnational youth, often called 'Third Culture Kids', to present their struggles with identity, belonging and internalized racism in their own words.

The result is the first engaging, anthropological critique of the way Western-style cosmopolitanism is institutionalized as cultural capital to reproduce global socio-cultural inequalities.
Paperback release coming soon! - Growing Up in Transit
GROWING UP IN TRANSIT will be released in paperback in December 2020. Pre-order now from the publisher to get 25% off using the coupon code TAN958. Also available in hardback and as an eBook from Berghahn Books.
Reviews of Growing Up in Transit
"The pace of the book is methodical and thorough. Following an admiring Foreword from Fazal Rizvi, the 18-page preface is an enlightening and necessary account of the author's own heritage, life and intellectual development, establishing her authority as a quadrilingual emic researcher in several of the student communities… It is its objectivity and methodology that facilitates it which make this book so original…This ground-breaking book offers a foundation for studies in the new generation of international schools.' • Journal of Research in International Education
"[This volume] makes a riveting read... Danau Tanu delivers an exceptional, genuinely interesting, thought-provoking account of her experiences in a secondary school in Jakarta… [that is] tightly researched and presented in lucid prose,… [and] a must-read for all leaders of international schools because it presents the opportunity for them to question the most fundamental purpose of what they do, i.e. shape the contexts in which identities develop.' • International Schools Journal
'So, who are the popular kids?' I asked a couple of seniors.

'Well, popularity isn't such a big deal here, but I suppose the white kids that like to sit over there are considered popular,' Melinda answered as she pointed at the benches near the high school office.

'The white kids?' I repeated suspiciously, as I was sure they were not all 'white'.

'Yeah, the white kids.'

I leaned over to do a double take on the group she was referring to. Many of them were Caucasian, but there were also two blacks, one South Asian, and at least three were of mixed Caucasian and Asian descent. Melinda did not notice the irony in her choice of words.

GROWING UP IN TRANSIT
"Growing up in Transit is a welcome addition to the emerging literature on elite schooling in the Global South. Its rich ethnographic details, critical but sensitive rendering of the lives of privileged youth, and attention to contemporary political economy present a nuanced and evocative analysis of privilege. The book will be of interest to anthropologists and sociologists of education.' • Journal of the Royal Anthropological Institute (JRAI)
"The book is an exceptional contribution to the theory and practice of cosmopolitanism among privileged students with high mobility in transnational spaces such as an international school… The author's unique experience growing up as a Third Culture Kid enabled her to breathe life into the ethnographic data, making sophisticated concepts and complicated processes discussed in the book engaging and relevant.' • Asia Pacific Journal of Education
"This book offers profound insights on how class and race can play out among globally mobile children. I highly recommend it.' • Ruth E. Van Reken, co-author, Third Culture Kids: Growing Up Among Worlds
According to Devraj, Indian students switched accents because in India they get teased and laughed at if they speak with an American accent. "It means that you've lost yourself,' he explained. Devraj had strong opinions about this.

Devraj spoke to me with an American accent as we casually sat in the library with his friends and said, "I speak to you like this. I switch.' He implied that he switched to the American accent for my sake because I was an outsider.

Switching accents enables the speaker to access the privileges that English entails, while simultaneously resisting its power to define their identity.

The switch comes naturally to them, Devraj explained: "You don't think about it. It's, like, when you switch from one language to another, do you think about it?' He was referring to my ability to switch between English, Japanese, and Indonesian at will.

"No,' he answered for me, "well, it's the same.'
"This book is the first that not only allow insight into the mechanism of cultural reproduction of transnationality with western norms set by International Schools, but the author goes beyond her perspectives from inside and, not least through her appealing and relaxed style, allows the reader to participate.' • Anthropos
"This ethnographic study offers a valuable correction to our understandings of the 'third culture kid' phenomenon.' • Huon Wardle, Centre for Cosmopolitan Studies, University of St Andrews
As featured in the Oxford IB Theory of Knowledge Textbook
Growing Up in Transit is now featured in the Oxford IB Diploma Programme: IB Theory of Knowledge Course Book by Marija Uzunova Dang and Arvin Singh Uzunov Dang. Published in May 2020 by the Oxford University Press.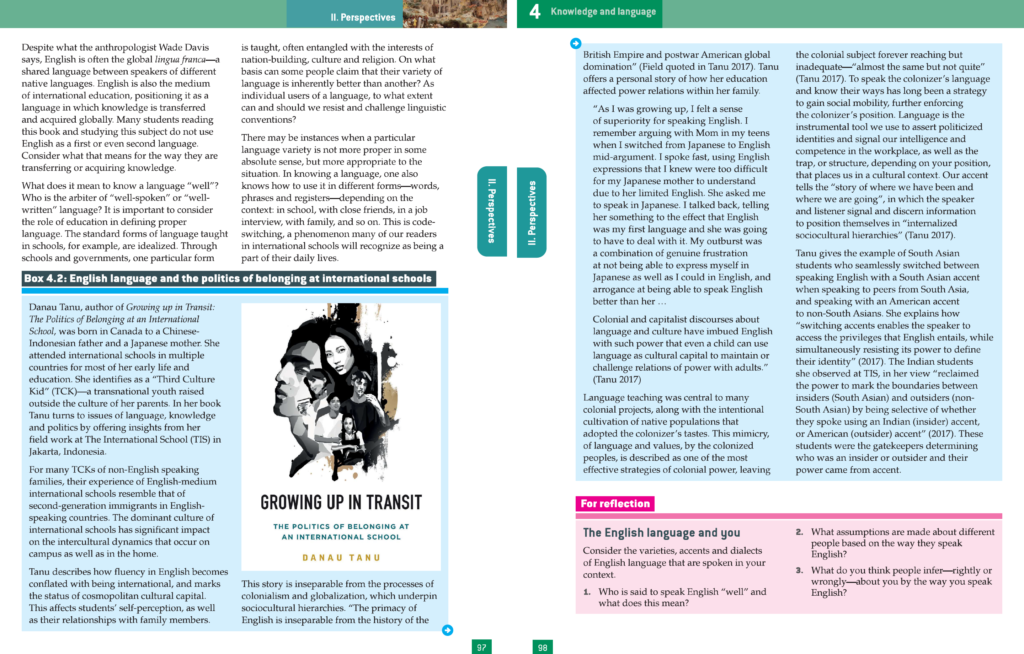 Take advantage of the promotional discount for the paperback release
Pre-order GROWING UP IN TRANSIT directly from the publisher, Berghahn Books, to get 25% off. Discount coupon code: TAN958.

Also available in hardback and as an eBook from Berghahn Books or your regular online bookstores.